A Full Day or Overnight Tour
Music legends Jimmy Hendrix and the Rolling Stones, among others, have been drawn to Essaouira's idyllic charm, which continues to lure musicians and artists alike to the sparkling whitewashed fishing village trimmed with the brilliant azure of its skies.
A former Portuguese settlement in the 18th century, its stone ramparts overlook an emerald sea where dolphins frolic near the fringe of silvery beach, and camels ferry passengers across fine sand.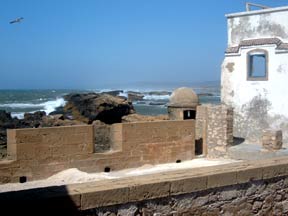 Dream on the beach, stroll through serene squares, browse artisan shops or the fish market, bursting with a plethora of fruit of the sea to be grilled to a succulent finish before your eyes…… and tis is where you can take camel ride at the beach of Morocco.
End your day at one of Essaouira's many charming cafes, sipping mint tea or coffee while people-watching or perusing your new purchases from the myriad artisan galleries.
A full day will be spent at Essaouira…….and do not forget to take your horse ride or camel ride at the beach before returning to Marrakech.