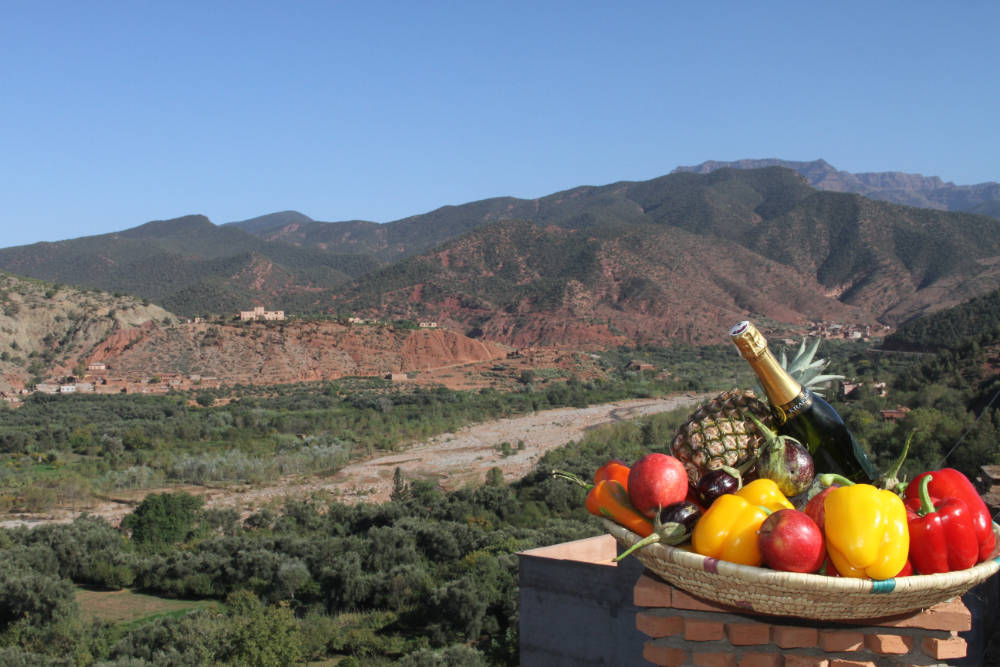 Our restaurant is the heart of Kasbah Omar
The view of the mountains surrounding you, from the terrace restaurant at Kasbah Omar, is panoramic. A river valley below you is filled with groves of apple, almond and olive trees. Each spectacular sunset paints the mountains in a symphony of colors – gold, pink, rose, purple, blue and black.
The restaurant is topped by a luxurious Berber tent. The stars above twinkle brightly in the clear evening sky, and people are relaxed and happy. Any language might be spoken, any conversation might be heard.
In our traditionally outfitted restaurant, dinner is served in several courses, and the culinary experience is drawn out for all to enjoy, digest, and be absolutely sated. Savory salads, freshly baked breads and dishes of olives and  are complement to large steaming servings of tagine, baked chicken, roasted fish, bastilla, and other exceptional traditional delicacies. Local fruits and pastries round out the evening for that sweet, unforgettable taste of Morocco.
Our food is locally sourced and organic.
In Morocco, we say,
"Melee katchbaa El Karsh Kat Goul Laraas Ghrenee"
When the Belly is Full, the Head Will Sing.
Cost of Meals at Kasbah Omar: 
Lunch or Dinner €25 pp
Full Board €40
All meals include soft drinks and water, tea and coffee.