The Ourika Valley & Aghbalou Cascades (5 hours hike)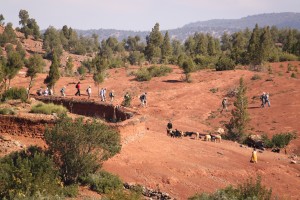 From our Berber village Anrar at Douar Tafza until we reach the Berber hamlet of Tamzenddirt (1150m) to start our 5 hour hike across the river and up along a narrow winding hillside path surrounded by fields of corn towards Anins and the through the col (1670m). From here we amble down to the Aghbalou Cascade (1148m) where we shall stop for our picnic by the waterfall; an opportunity, perhaps, to get refreshingly wet?Our gentle hike this afternoon is made by setting out for the Berber village of Aghbalou, where we shall cross the Assif Ourika to get to our vehicle which takes us through this beautiful valley on to the riverside hamlet of Setti Fadma with its groves of ancient walnut trees, where we can take a 45 minute walk around the handicraft shops set amidst apple orchards, and then return to our Anrar village around 7.00 in the evening.
Ouirgane – Marigha – Tassa Ouirgane – Touroud – El Khemis– Ouirgane – Ourika (5 1/2 hour hike)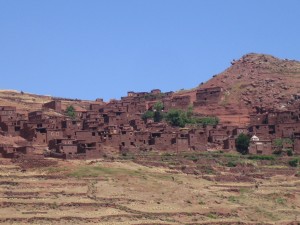 After a 45 minute drive to Ouirgane, we set off with our Morocco Mountain Guide towards the east through fields of corn and flowers. We follow alongside the river's course up and down small hills dotted with red juniper, passing isolated Berber hamlets until we reach the salt mines at Marigha. The Berbers have been mining salt using a method unchanged for centuries. You may see them riding from village to village, selling the salt from the back of their donkeys.
Western Ourika Valley & Oukaimeden Plateau (6 hours hike)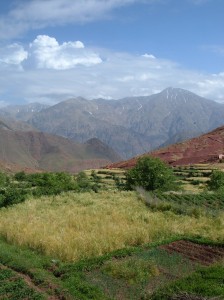 A 15 minute drive to the Berber hamlet of Setti Fadma, famed for its nearby waterfalls and ancient walnut trees.
Here we leave our vehicle to start our 5-6 hour circle hike towards the west across the river, setting out from Agadir n'Aït Boulmane (1509m). Then towards the north, along a narrow winding path near the Berber hamlet of Chiqr (1900m). Onwards through the col of the Tizi n'Ougadil n'Boulmane (2200m) with the Jbel Oukaïmeden range before us.
From here we circle down to Imi n'Taddert and on up through the valley to the Berber village of Tourichtt where we will stop for our picnic before the waterfall; an opportunity, perhaps to get refreshed. Our afternoon 2-hour hike is made by setting out down via small waterfalls to the Berber hamlet of Amlougghi, to arrive at the village of Aït Barqa where we will cross the river to our vehicle at Hadd n'Azegaour for our return to our village of Anrar, where we should arrive at around 7.00 pm.
The Magnificent Toubkal and Sisters (2 days hike with 1 overnight at Toubkal Refuge)
Toubkal is the highest peak in north Africa, the 2nd highest peak in Africa (13,667 ft)
We set off today towards the southwest skirting the Berber town of Imlil about 35 min drive from our village (1740 m), known as Morocco's 'Little Chamonix', set, as we are, in the upper level foothills of the Western High Atlas mountains of the Toubkal National Park. With streams and paths branching out in all directions, we traverse the Tamatert Valley until we reach the hamlet of Achelm to strike out for some 4km towards the south towards the Berber village of Aroumd (Aremd) (1843m), passing the hamlets of Taourirt, Targa, and Imoula, up and down the stark slopes, the jagged Western High Atlas peaks of the Jbel Toubkal Massif – at 4167m the highest peak in North Africa – before us, with her awe-inspiring sister peaks the Jbels Aguelzim (3547m), Aksouâl (3847m) and the Adrar Adj (3122m) watching us all the way.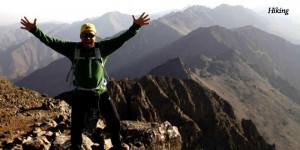 We'll stop at Aroumd to visit this rather singular village in the Assif Aït Mizane Valley, built house upon house on a large moraine spur overlooking ancient irrigated terraced fields of barley, corn and vegetables and always surrounded by almond and walnut trees. We then carry on for another 8km.to the equally-quaint village of Sidi Chamharouch, a Berber village set beside a waterfall and small stream, again with its pisé homes seemingly built somewhat chaotically one into another. This village is a place of pilgrimage for devout Muslims and there is a marabout shrine – forbidden to non-Moslems – said to be a relic of a pre-Islamic religious and naturalist cult. We'll take a break for a picnic, within full view of Jbel Toubkal, prior to setting off back down the other side of the valley at a gentle pace back to the delightful Douar Samra where you bid farewell – 'bissalaama' means bye – to your mountain guide.
Half Day Trekking (morning or afternoon, 2 person minimum)
Kasbah residents
Extra trekkers (half-day)
Mule (half-day)
€25 pp
€10
€15
Full Day Trekking Including Picnic (minimum 2 people)
Registered guide, muleteer/cook
Extra trekkers
Overnight stay
(including prepared meals and accommodation)
€70 pp
€50
€50
Non-resident trekking supplement
€20