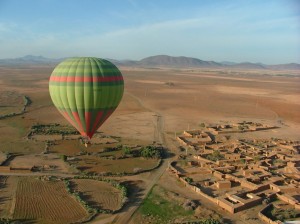 The first passengers in a hot air balloon flight were a sheep, a duck and a rooster, launched by the brothers Joseph and Etienne Montgolfier on the 19th September 1783. The first recorded flight in a hot air balloon of some 22 minutes was made by the Marquis d'Arlandes and Mr. Pilatre de Rosier in Paris on the 21 st November of that same year. We've come a long way since then, but the principle is the same.
Balloons are aircraft and, as such, both craft and certified pilots are governed, as with all aircraft and pilots, by Civil Aviation Regulations. Piloting a balloon takes skill, yet the controls are quite simple. The pilots' knowledge of the area and the prevailing daily variations aloft in the layers of wind currents are used to steer a 1 hour not-too-exact course, usually in a westerly direction from the launch site near Marrakech, to move calmly and gracefully over the ground, in accordance with the air mass flow, some 800 to 1000m to the north-east of Marrakech, over oases and secluded Berber villages, the terraced irrigated fields of the Oueds Tinsift and Nfis of the Al Hawuz Plain to drift alongside the northern Jbilet hill. You can see for miles and miles, lulled to the music of silence, the awesome Western High Atlas Mountains to the south of Moroccoas a constant wonder. In free air balloon flights, the sensation of vertigo simply does not exist. It is as if you are suspended in the wind, with the heavens as your reference point.
We pick you up from your hotel between 5:30 and 6:30 according to the season, in a leather-seated 4 wheel drive vehicle in which we drive to the launch site chosen for that morning. Once there, the balloon is prepared for flight – and we hope you'll take part in the fun – you board your gondola and, on the instruction of the pilot to his ground crew of "lâchez tout" -'cast off' – the magic moment arrives as we rise vertically up towards the Moroccan heavens. We are followed by a chase vehicle, in constant radio communication with the pilot and whose crew establish the day's most suitable landing site. Once we have our 'kiss landing' – in the worst case we'd have a gentle drag of but a few yards – our 4 wheel drive is awaiting us, and, after we have collapsed and stored the balloon, we shall make a tour of some of the Berber villages we have over-flown, to stop an have a glass or two of mint tea, some Moroccan pastries or fresh bread dipped in olive oil, in the home of one of the Berber inhabitants. At around midday , you will be taken back to your hotel in Marrakech, armed with a Certificate to show your friends or family back home to show them 'We've been there' and a basketful of delightful memories.
(from 2 to 7 persons maximum)
| | |
| --- | --- |
| Exclusive flight (min 2 persons) | US$ 650 per person |
| Champagne flight | US$ 325 per person |
| Shared flight | US$ 275 per person |
NB: Children aged 2-10 yrs will receive a discount of 50% on above rates.
OUR PRICE INCLUDES:
Exclusive flight: Sole occupancy 1 hour actual flight, services of an experienced, qualified pilot with current French and Moroccan Pilot's Licences and Air Worthiness Certificates (France & Morocco); ground support crew, support vehicle; private round trip transfers from your hotel in Marrakech to launch site and return; French champagne on landing; a private tour of the villages together with a visit of Berber family home for a tea and snack; a 'Flight' Certificate. All relevant Insurances while in the vehicle and hot air balloon.
For a Champagne flight : all as above, except that the transfers, gondola and tour are shared with initial strangers.
For a Shared flight : all as above, but excludes champagne on landing; the transfers, gondola and tour are sharedwith initial strangers.
OUR PRICE DOES NOT INCLUDE: medical or accident insurances outside of the vehicles and hot air balloon; personal gear; gratuity to pilot and/or crew.
IT IS RECOMMENDED YOU BRING: a woollen sweater for early morning departure and flight; sunglasses; sun block; camera.